Benefits Of Working With Salesforce Commerce Cloud Implementation Partners
Unify the purchasing process and establish connections with B2C and B2B customers at all points of contact. Take advantage of a single, comprehensive view of all orders, activity, inventory, and other information. By integrating eCommerce data with other Salesforce Clouds, you can maximize customer insights throughout marketing, sales, and service teams.
Connect various teams' commerce. When you link eCommerce data with additional Salesforce Clouds, you can expand customer insights throughout marketing, sales, and service.
Folio3 can service your needs as your Salesforce implementation partner. We will professionally establish, configure, and personalize Salesforce Sales and Service Cloud to support your business needs. Our experienced Salesforce consultants implement business process automation by using several techniques. Such as custom email templates, workflows, security access settings, and approval processes. You can inquire how we expertly incorporate custom reports and dashboards to ensure better data visibility which consequently provides critical business insights that result in better decision making at all levels of the company. The insights reduce risk factors and detect emerging trends which can help shape your business model for the future and provide your business with a head start as compared to your competitors.
Folio3 provides professional Salesforce Cloud integration. The agile service allows you to assimilate the improvements applied to your system. Our integration services have provided tremendous benefits to our clients resulting in extensive success and reduction in costs. Folio3's salesforce specialists have substantial expertise in producing solutions tailored to your business on the force.com platform. Whether it be e-commerce, shipping, ERP, or marketplace integration, Folio3 has done it all.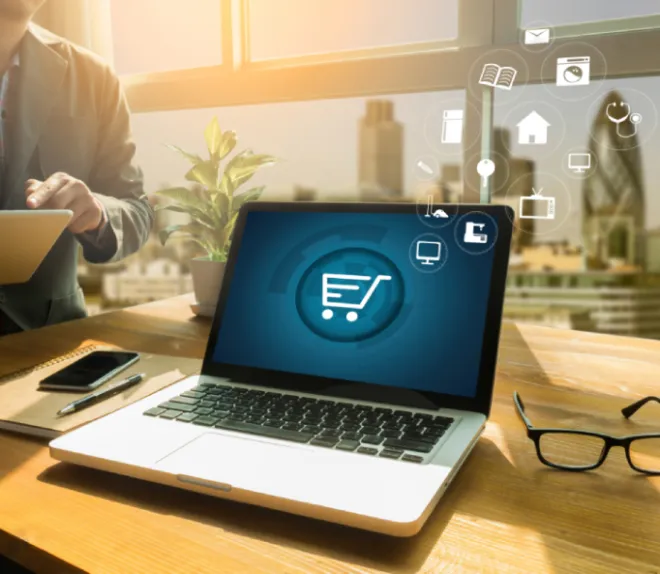 Win Your Goals With The World's Leading Salesforce B2B Commerce Cloud Implementation Services
We provide outstanding Salesforce Commerce Cloud Services for you in order to provide a convenient shopping experience and increase your company's online revenue:
Salesforce Commerce Cloud eCommerce Of Tomorrow, Will Help You Grow!
You can collaborate and respond quickly, streamline the customer experience, and motivate success from anywhere with customer-centric commerce that is suited for any business.
Without further ado, share your information with our experts, and we'll assist you in immediately starting your Salesforce Commerce Cloud migration from any top-tier eCommerce platform.
Why You Should Choose Folio3 as Your SFCC Implementation

Secure Lossless Migration
With the use of 128 bit SSL encryption and the HTTPS protocol, our team of experts guarantees the most secure, without any data loss, and error-free migrations, assuring the protection of all the data being moved.
View More
Why choose folio3 Salesforce
We are alums of Intel, Silicon Graphics, and Qualcomm; techies from MIT and Caltech entrepreneurs and inventors from Silicon Valley; enthusiasts for all things digital; big believers in technology's potential; bigger believers in human potential.
Clients (banks, booksellers, software giants, game start-ups) that trust and value us enough to be our best spokespersons.
Clients (banks, booksellers, software giants, game start-ups) that trust and value us enough to be our best spokespersons.
Employees who understand the dual commitment at Folio3, Customers first, Employees forever.
Web and Mobiles solutions are made with love, integrity, and lots of caffeine.
Digital Transformation begins here!
Let us write your business's growth story by offering innovative, scalable and result-driven IT solutions. Do you have an idea that has a potential to bring a change in the world? Don't hesitate, share with our experts and we will help you to achieve it.
Pick the Right Model to Hire SFCC Developers
To keep the hiring process seamless, we follow a simple hiring and engagement model. Our hiring model are designed to focused what's best suited to your projects, with rapid delivery and 100% project satisfaction.
Frequently Asked Question?